THE ULTIMATE HIGH COMPRESSION PREMIUM CONNECTION
PRODUCTS – MAKING THE RIGHT CONNECTION –
HSC® HICOM™ PREMIUM CONNECTION

HSC's latest threaded and coupled Premium Connection has been designed for the most extreme well conditions experienced in the oil and gas industry.
Patented worldwide, the HICOM™ connection ensures connection integrity in highly deviated wells.

The HICOM™ Premium Connection has been successfully mechanically tested in full compliance – including failure tests – with the most severe and demanding requirements of the internationally recognised ISO 13679 CAL IV.
It meets the most severe and environmentally critical well conditions, and is the solution to the oil and gas industry's ever-evolving need for more challenging applications, including shale gas and horizontal wells.
HICOM™ has been t

ested and rated to 100% compression and tensile efficiency.
HSC HICOM™ Premium Connection Provides:
Available in sizes from 2 3/8″ through to 14″
ISO 13679 CAL IV qualified (to ISO's maximum requirement)
100% compression rated (2 3/8″ – 8 5/8″)
80% compression rated (9 5/8″ – 14″)
100% tensile rated
Minimum 100% joint efficiency
100% internal and external pressure rated
Suitable for HP/HT (high pressure and high
temperature) oil and gas wells
Fully flush bore (minimal turbulence)
Ultimate gas-tight sealing under highly deviated
well conditions
Superior resistance to bending
Improved resistance to galling
Available in equal strength, special clearance
and special bevel options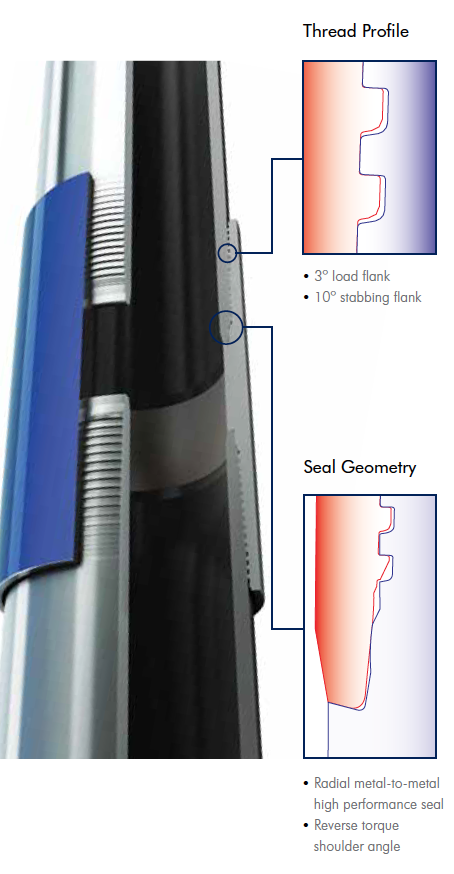 | Size | Weight (lb/ft) | Wall Thickness | Threads Per Inch | Document |
| --- | --- | --- | --- | --- |
| 2 3/8" | 4.6 | 0.190" | 8 | View |
| 2 3/8" | 5.1 | 0.218" | 8 | View |
| 2 3/8" | 5.8 | 0.254" | 8 | View |
| 2 3/8" | 6.3 | 0.280" | 8 | View |
| 2 3/8" | 6.6 | 0.295" | 8 | View |
| 2 3/8" | 7.35 | 0.336" | 8 | View |
| 2 7/8" | 6.4 | 0.217" | 8 | View |
| 2 7/8" | 7.8 | 0.276" | 8 | View |
| 2 7/8" | 8.6 | 0.308" | 8 | View |
| 2 7/8" | 9.35 | 0.340" | 8 | View |
| 2 7/8" | 9.8 | 0.362" | 8 | View |
| 2 7/8" | 10.5 | 0.392" | 8 | View |
| 2 7/8" | 10.7 | 0.405" | 8 | View |
| 3 1/2" | 7.7 | 0.216" | 6 | View |
| 3 1/2" | 9.2 | 0.254" | 6 | View |
| 3 1/2" | 10.2 | 0.289" | 6 | View |
| 3 1/2" | 12.7 | 0.375" | 6 | View |
| 3 1/2" | 13.7 | 0.413" | 6 | View |
| 3 1/2" | 14.3 | 0.430" | 6 | View |
| 3 1/2" | 14.7 | 0.449" | 6 | View |
| 3 1/2" | 15.5 | 0.476" | 6 | View |
| 4" | 8.2 | 0.190" | 6 | View |
| 4" | 9.5 | 0.226" | 6 | View |
| 4" | 10.9 | 0.262" | 6 | View |
| 4" | 13.2 | 0.330" | 6 | View |
| 4" | 14.8 | 0.380" | 6 | View |
| 4" | 16.1 | 0.415" | 6 | View |
| 4" | 16.5 | 0.430" | 6 | View |
| 4" | 18.9 | 0.500" | 6 | View |
| 4 1/2" | 17 | 0.380" | 6 | View |
| 4 1/2" | 10.5 | 0.224" | 6 | View |
| 4 1/2" | 11.6 | 0.250" | 6 | View |
| 4 1/2" | 12.6 | 0.271" | 6 | View |
| 4 1/2" | 13.5 | 0.290" | 6 | View |
| 4 1/2" | 15.1 | 0.337" | 6 | View |
| 4 1/2" | 17.7 | 0.402" | 6 | View |
| 4 1/2" | 18.9 | 0.430" | 6 | View |
| 4 1/2" | 21.5 | 0.500" | 6 | View |
| 5" | 13 | 0.253" | 5 | View |
| 5" | 15 | 0.296" | 5 | View |
| 5" | 18 | 0.362" | 5 | View |
| 5" | 20.3 | 0.408" | 5 | View |
| 5" | 20.8 | 0.422" | 5 | View |
| 5" | 21.4 | 0.437" | 5 | View |
| 5" | 23.2 | 0.478" | 5 | View |
| 5" | 24.1 | 0.500" | 5 | View |
| 5 1/2" | 15.5 | 0.275" | 5 | View |
| 5 1/2" | 17 | 0.304" | 5 | View |
| 5 1/2" | 20 | 0.361" | 5 | View |
| 5 1/2" | 23 | 0.415" | 5 | View |
| 5 1/2" | 26 | 0.476" | 5 | View |
| 5 1/2" | 26.8 | 0.500" | 5 | View |
| 5 1/2" | 28.4 | 0.530" | 5 | View |
| 5 1/2" | 29.7 | 0.562" | 5 | View |
| 6 5/8" | 20 | 0.288" | 5 | View |
| 6 5/8" | 23.2 | 0.330" | 5 | View |
| 6 5/8" | 24 | 0.352" | 5 | View |
| 6 5/8" | 28 | 0.417" | 5 | View |
| 6 5/8" | 32 | 0.475" | 5 | View |
| 7" | 23 | 0.317" | 5 | View |
| 7" | 26 | 0.362" | 5 | View |
| 7" | 29 | 0.408" | 5 | View |
| 7" | 32 | 0.453" | 5 | View |
| 7" | 35 | 0.498" | 5 | View |
| 7" | 38 | 0.540" | 5 | View |
| 7" | 41 | 0.590" | 5 | View |
| 7 5/8" | 29.7 | 0.375" | 5 | View |
| 7 5/8" | 33.7 | 0.430" | 5 | View |
| 7 5/8" | 35.8 | 0.465" | 5 | View |
| 7 5/8" | 39 | 0.500" | 5 | View |
| 7 5/8" | 42.8 | 0.562" | 5 | View |
| 7 5/8" | 45.3 | 0.595" | 5 | View |
| 7 3/4" | 46.1 | 0.595" | 5 | View |
| 8 5/8" | 36 | 0.400" | 5 | View |
| 8 5/8" | 40 | 0.450" | 5 | View |
| 8 5/8" | 44 | 0.500" | 5 | View |
| 8 5/8" | 49 | 0.557" | 5 | View |
| 8 5/8" | 52 | 0.595" | 5 | View |
| 9 5/8" | 36 | 0.352" | 5 | View |
| 9 5/8" | 40 | 0.395" | 5 | View |
| 9 5/8" | 43.5 | 0.435" | 5 | View |
| 9 5/8" | 47 | 0.472" | 5 | View |
| 9 5/8" | 53.5 | 0.545" | 5 | View |
| 9 5/8" | 58.4 | 0.595" | 5 | View |
| 9 7/8" | 62.8 | 0.625" | 5 | View |
| 9 7/8" | 66.4 | 0.661" | 5 | View |
| 9 7/8" | 66.9 | 0.668" | 5 | View |
| 9 7/8" | 67.5 | 0.678" | 5 | View |
| 9 7/8" | 68.9 | 0.700" | 5 | View |
| 9 7/8" | 70.5 | 0.720" | 5 | View |
| 9 7/8" | 72 | 0.725" | 5 | View |
| 10 3/4" | 45.5 | 0.400" | 5 | View |
| 10 3/4" | 51 | 0.450" | 5 | View |
| 10 3/4" | 55.5 | 0.495" | 5 | View |
| 10 3/4" | 60.7 | 0.545" | 5 | View |
| 10 3/4" | 65.7 | 0.595" | 5 | View |
| 11 3/4" | 54 | 0.435" | 5 | View |
| 11 3/4" | 60 | 0.489" | 5 | View |
| 11 3/4" | 65 | 0.534" | 5 | View |
| 11 3/4" | 71 | 0.582" | 5 | View |
| 11 7/8" | 71.8 | 0.582" | 5 | View |
| 13 3/8" | 61 | 0.430" | 5 | View |
| 13 3/8" | 68 | 0.480" | 5 | View |
| 13 3/8" | 72 | 0.514" | 5 | View |
| 13 3/8" | 77 | 0.550" | 5 | View |
| 13 3/8" | 80.7 | 0.580" | 5 | View |
| 13 3/8" | 85 | 0.608" | 5 | View |
| 13 3/8" | 86 | 0.625" | 5 | View |
| 13 5/8" | 88.2 | 0.625" | 5 | View |
| 14" | 86 | 0.600" | 5 | View |
| 14" | 93 | 0.650" | 5 | View |
| 14" | 100 | 0.700" | 5 | View |
| 14" | 106 | 0.750" | 5 | View |
| 14" | 114 | 0.800" | 5 | View |
| 14" | 120 | 0.850" | 5 | View |
| Size (mm) | Weight (kg/m) | Wall Thickness (mm) | Threads Per Inch | Document |
| --- | --- | --- | --- | --- |
| 60.32 | 6.85 | 4.83 | 8 | View |
| 60.32 | 7.59 | 5.54 | 8 | View |
| 60.32 | 8.63 | 6.45 | 8 | View |
| 60.32 | 9.38 | 7.11 | 8 | View |
| 60.32 | 9.82 | 7.49 | 8 | View |
| 60.32 | 10.94 | 8.53 | 8 | View |
| 73.02 | 9.52 | 5.51 | 8 | View |
| 73.02 | 11.61 | 7.01 | 8 | View |
| 73.02 | 12.8 | 7.82 | 8 | View |
| 73.02 | 13.91 | 8.64 | 8 | View |
| 73.02 | 14.58 | 9.19 | 8 | View |
| 73.02 | 15.63 | 9.96 | 8 | View |
| 73.02 | 15.92 | 10.29 | 8 | View |
| 88.9 | 11.46 | 5.49 | 6 | View |
| 88.9 | 13.69 | 6.45 | 6 | View |
| 88.9 | 15.18 | 7.34 | 6 | View |
| 88.9 | 18.9 | 9.52 | 6 | View |
| 88.9 | 20.39 | 10.49 | 6 | View |
| 88.9 | 21.28 | 10.92 | 6 | View |
| 88.9 | 21.88 | 11.4 | 6 | View |
| 88.9 | 23.07 | 12.09 | 6 | View |
| 101.6 | 12.2 | 4.83 | 6 | View |
| 101.6 | 14.14 | 5.74 | 6 | View |
| 101.6 | 16.22 | 6.65 | 6 | View |
| 101.6 | 19.64 | 8.38 | 6 | View |
| 101.6 | 22.02 | 9.65 | 6 | View |
| 101.6 | 23.96 | 10.54 | 6 | View |
| 101.6 | 24.55 | 10.92 | 6 | View |
| 101.6 | 28.13 | 12.7 | 6 | View |
| 114.3 | 15.63 | 5.69 | 6 | View |
| 114.3 | 17.26 | 6.35 | 6 | View |
| 114.3 | 18.75 | 6.88 | 6 | View |
| 114.3 | 20.09 | 7.37 | 6 | View |
| 114.3 | 22.47 | 8.56 | 6 | View |
| 114.3 | 25.3 | 9.65 | 6 | View |
| 114.3 | 26.34 | 10.21 | 6 | View |
| 114.3 | 28.13 | 10.92 | 6 | View |
| 114.3 | 32 | 12.7 | 6 | View |
| 127 | 19.35 | 6.43 | 5 | View |
| 127 | 22.32 | 7.52 | 5 | View |
| 127 | 26.79 | 9.19 | 5 | View |
| 127 | 30.21 | 10.36 | 5 | View |
| 127 | 30.95 | 10.72 | 5 | View |
| 127 | 31.85 | 11.1 | 5 | View |
| 127 | 34.53 | 12.14 | 5 | View |
| 127 | 35.86 | 12.7 | 5 | View |
| 139.7 | 23.07 | 6.98 | 5 | View |
| 139.7 | 25.3 | 7.72 | 5 | View |
| 139.7 | 29.76 | 9.17 | 5 | View |
| 139.7 | 34.23 | 10.54 | 5 | View |
| 139.7 | 38.69 | 12.09 | 5 | View |
| 139.7 | 39.88 | 12.7 | 5 | View |
| 139.7 | 42.26 | 13.46 | 5 | View |
| 139.7 | 44.2 | 14.27 | 5 | View |
| 168.28 | 29.76 | 7.32 | 5 | View |
| 168.28 | 34.53 | 8.38 | 5 | View |
| 168.28 | 35.72 | 8.94 | 5 | View |
| 168.28 | 41.67 | 10.59 | 5 | View |
| 168.28 | 47.62 | 12.06 | 5 | View |
| 177.8 | 34.23 | 8.05 | 5 | View |
| 177.8 | 38.69 | 9.19 | 5 | View |
| 177.8 | 43.16 | 10.36 | 5 | View |
| 177.8 | 47.62 | 11.51 | 5 | View |
| 177.8 | 52.09 | 12.65 | 5 | View |
| 177.8 | 56.55 | 13.72 | 5 | View |
| 177.8 | 61.01 | 14.99 | 5 | View |
| 193.68 | 44.2 | 9.52 | 5 | View |
| 193.68 | 50.15 | 10.92 | 5 | View |
| 193.68 | 53.28 | 11.81 | 5 | View |
| 193.68 | 58.04 | 12.7 | 5 | View |
| 193.68 | 63.69 | 14.27 | 5 | View |
| 193.68 | 67.41 | 15.11 | 5 | View |
| 196.85 | 68.6 | 15.11 | 5 | View |
| 219.08 | 53.57 | 10.16 | 5 | View |
| 219.08 | 59.53 | 11.43 | 5 | View |
| 219.08 | 65.48 | 12.7 | 5 | View |
| 219.08 | 72.92 | 14.15 | 5 | View |
| 219.08 | 77.38 | 15.11 | 5 | View |
| 244.48 | 53.57 | 8.94 | 5 | View |
| 244.48 | 59.53 | 10.03 | 5 | View |
| 244.48 | 64.74 | 11.05 | 5 | View |
| 244.48 | 69.94 | 11.99 | 5 | View |
| 244.48 | 79.62 | 13.84 | 5 | View |
| 244.48 | 86.91 | 15.11 | 5 | View |
| 250.82 | 93.46 | 15.88 | 5 | View |
| 250.82 | 98.81 | 16.79 | 5 | View |
| 250.82 | 99.56 | 16.97 | 5 | View |
| 250.82 | 100.45 | 17.22 | 5 | View |
| 250.82 | 102.53 | 17.78 | 5 | View |
| 250.82 | 104.92 | 18.29 | 5 | View |
| 250.82 | 107.15 | 18.42 | 5 | View |
| 273.05 | 67.71 | 10.15 | 5 | View |
| 273.05 | 75.9 | 11.43 | 5 | View |
| 273.05 | 82.59 | 12.57 | 5 | View |
| 273.05 | 90.33 | 13.84 | 5 | View |
| 273.05 | 97.77 | 15.11 | 5 | View |
| 298.45 | 80.36 | 11.05 | 5 | View |
| 298.45 | 89.29 | 12.42 | 5 | View |
| 298.45 | 96.73 | 13.56 | 5 | View |
| 298.45 | 105.66 | 14.78 | 5 | View |
| 301.62 | 106.85 | 14.78 | 5 | View |
| 339.72 | 90.78 | 10.92 | 5 | View |
| 339.72 | 101.2 | 12.19 | 5 | View |
| 339.72 | 107.15 | 13.06 | 5 | View |
| 339.72 | 114.59 | 13.97 | 5 | View |
| 339.72 | 120.09 | 14.73 | 5 | View |
| 339.72 | 126.49 | 15.44 | 5 | View |
| 339.72 | 127.98 | 15.88 | 5 | View |
| 346.08 | 131.26 | 15.88 | 5 | View |
| 355.6 | 127.98 | 15.24 | 5 | View |
| 355.6 | 138.4 | 16.51 | 5 | View |
| 355.6 | 148.82 | 17.78 | 5 | View |
| 355.6 | 157.75 | 19.05 | 5 | View |
| 355.6 | 169.65 | 20.32 | 5 | View |
| 355.6 | 178.58 | 21.59 | 5 | View |